Mr. Pawan Kumar Goyal
Managing Director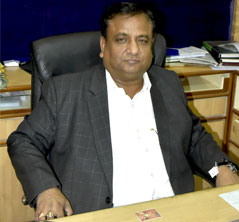 Mr. Pawan Kumar Goyal is the Managing Director of Mentor Home Loans India Limited. Mr Pawan Kumar Goyal is India's prominent businessman, humanitarian and a social entrepreneur. Displaying an idealistic essence, he has created one of Rajasthan's prevalent and most respected and diversified company, Mentor Home Loans India Limited. With the noblest endeavor for the benefit of humanity to bequeath shelters to every homeless specific.
Behind the astonishing fortitude Mr. Goyal assumed leadership at a very young age by taking the membership of Jaipur Stock Exchange Limited, he took bold decisions from the word go. Displaying great conviction by setting up Hybrid micro circuit & energy meter project, He successfully arranged the funding for the same and was responsible structuring the overall project. Later on, he was responsible for financial planning of Mentor India Limited. Further owing to his wide ranging network in Jaipur, he was instrumental in forming a federation of all Vehicle Finance Companies in the state of Rajasthan by the name of Rajasthan Finance Companies Association.
Mr. Goyal's greatest joy comes from distribution. He believes that basic facilities like education, housing and healthcare, which many of us take for granted, is a superfluity for zillions. Through this social commitment, he wishes to reach out to as many people as possible to make a viable impact.
looking for Home and Mortgage loan please contact us